Walking into the NHS clinic where I work as a psychotherapist, I saw that the daffodils by the path had finally flowered. My heart lifted: new life; spring springing; winter ending. But the change in the seasons may bring little relief to those whom this longest and bleakest of winters has tipped into "survival mode". These are people who have found themselves choosing between heating and eating, or who are stuck on a waiting list for vital healthcare, or who have caring responsibilities that leave them drained of energy for themselves. Others feel despairing and hopeless, reading endless catastrophic headlines about the climate emergency, the war in Ukraine, the cost of living crisis. All this is what you, our readers, wrote about when we invited you to tell us what living in survival mode means to you.
When I asked reader Nicky Marchbank, 40, from Kent, what images this phrase brought to mind, I found her answer striking. She studied history at university, and what she associates with survival mode, she told me over Zoom, is "winter before the Industrial Revolution, because that is literally getting from one day to the next and not dying, isn't it? These days, emotionally, we've managed to get there without the harsh winters, somehow." Perhaps what many of us are experiencing at the moment is a kind of internal harsh winter: a frost that creeps into the mind and the body, freezing green shoots and hope, stunting growth. Not death, but not quite life either. Survival.
Marchbank knows what she is talking about when it comes to that kind of existence. But I wanted to speak to her in particular because she doesn't just know what it means to be in survival mode; she also found a way out of it.
Before the pandemic, Marchbank worked as a sales rep in construction. "I was really lucky," she says. "I had a job I absolutely loved. Maybe to a lot of people, finding the right products for the right buildings sounds boring, but I found it really exciting and I spent my time driving around, chatting on the phone to customers who became my friends, listening to my music." The rest of her time would be spent Thai boxing or running, volunteering at a local homeless shelter, going out with friends or relaxing at home with her three cats. She had built a fulfilling independent life for herself and she loved it.
Then, in the summer of 2019, she had the surreal and agonising experience of seeing her fingers swelling up; it felt as if they were breaking. Over the weeks that followed, pain and fatigue spread throughout her body, and neither she nor her doctor had any idea why. No more running, Thai boxing, volunteering or socialising; she worked from home and slept all weekend, every weekend, her sleep disturbed by nightmares of losing her job, not being able to pay her mortgage, losing her home. Eventually, she was diagnosed with Ehlers-Danlos syndrome, a condition affecting connective tissue that results in chronic pain and injuries, including in Marchbank's case, sprains, dislocations, herniated discs and scoliosis.
The physical pain was matched by an equally intense and devastating psychological pain, as brick by brick, the life she had built collapsed. She lost her job, and the following month, March 2020, the country went into lockdown. Her loving and supportive family rallied round as best they could from 40 miles away in London. In social isolation, trying to make sense of all this loss, and navigating the benefits system for the first time, Marchbank says she hit "rock bottom".
"My house became like prison," she says. "You run out of things to phone people about because you don't do anything. It felt as if I'd lost everything that was important to me." Her social life, her hobbies, her health, her job, her hard-won financial security. "I lost it and there was no way of getting it back to the way it was. You kind of cry yourself out, don't you, when something bad happens? I was in a really dark place, going from day to day." Surviving.
"My poor mum could tell you about her heartbreak of phoning me and my crying down the phone to her, with her all the way in London in lockdown, and there's nothing she can do about it," she says. "That's the trouble when you reach survival mode, there's no advice you can give to someone who's lost all agency, who's lost a huge part of themselves."
Marchbank tells me that a year ago she lost a dear friend to suicide, and that is one of the reasons she wanted to speak to me for this article – "Just in case anything I have to say might be useful for somebody else."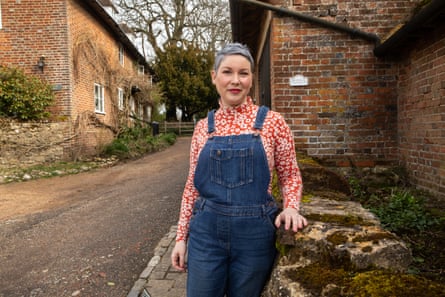 Listening to Marchbank, I understood anew that the way out of survival mode is to find a means to truly come alive again. It's the same thing that I learned from listening to the many extraordinary people I interviewed for my book, When I Grow Up: Conversations With Adults in Search of Adulthood. It was a theme that came up again and again when they told me about growing through and out of a period of their lives in which they felt stuck. Aged from 19 to 90, each had to break through this same survival barrier to make the shift from living a half-life to becoming more alive, more themselves.
Boru, in his 20s, found the ability within himself to break free from his drug addiction and is now cycling around the globe. Pog, in her 90s, was courageous enough to allow herself to truly grieve for her husband, and discovered a new capacity to navigate through her loss in the very last chapter of her life.
All these people, from Boru to Pog and now Marchbank, have shown me through their experiences what Oliver Robinson, associate professor of psychology at the University of Greenwich, has learned through questioning his own profession. In psychology, he says, there is "this rather simplistic assumption" that happiness is always positive. "It is, under certain circumstances," he says, but so can unhappiness be, as an agent for change. The reason survival mode is so dangerous is that we can get so used to it that we simply accept our misery instead of trying to change it, and we stop listening to ourselves, our instincts and our feelings.
Robinson explains: "Learning how to attend to the negative feelings and movements within one's body and mind, and learning to make changes accordingly that move you through to the next stage rather than regressing, is crucial." Because, he says: "Feeling bad is a driver for change in the way that nothing else can be. If you have strong negative emotions, if you feel yourself falling apart, then listen carefully to what you should and could change in your life."
Marchbank recognises that in some ways, she is very fortunate, far more so than many: she did not lose her house, thanks to help from her parents, and she has been able to claim benefits and use a Motability car, which means she is no longer housebound. This, she says, has enabled her to "claw things back, and get a bit more of a sense of agency". She had therapy and started to meditate. Then one day last year she saw a poster for free sign language lessons in a nearby village, and she decided to sign up. The classes were held in a church that runs a community cafe. She thought about the fact that their village was losing their bus service, so people who didn't drive would struggle to get out to socialise, and also that many local people were using food banks and could do with low-cost, healthy homemade meals. She got the parish council and the church to agree to provide funding, then formulated plans and recruited volunteers by, as she puts it, "collaring people at the village litter pick" – a scene I can well imagine, as her voice begins to resonate with vitality, energy and capability.
At 12.35pm on the day of her first community lunch, Marchbank was sitting waiting in an empty village hall. "I said: 'Oh my God, no one's going to come.'" But 18 people turned up and now there are about 40 guests a week, and nearly 50 people came to the Christmas meal. They open every Tuesday lunchtime, and volunteers take part on a three-weekly rota so that the commitment isn't overwhelming. Visitors pay only for the cost of the ingredients divided by the number of portions made, and a volunteer driver collects anyone who can't get there independently.
One guest told Marchbank: "I can't remember the last time I laughed so much, and for so little money." She regularly gets messages from grateful guests saying how welcome they feel and what a difference it has made to their lives, knowing that every Tuesday they can come out and socialise and have a delicious hot meal. "Even some of the volunteers have said it has made a huge difference to them, giving them more self-confidence, especially if they have difficult situations or caring responsibilities at home," she says.
As for Marchbank, she is limited in the ways she can contribute practically – she can't cook or serve the food – but she has put her skills from her former working life to good use, doing environmental health and food hygiene training online, then training the other volunteers, and taking care of general organisation such as printing leaflets. The change to her sense of self has been monumental: she has found her way out of survival mode.
"I felt as if I'd lost a lot of what made me who I was. OK, I can only do this for a couple of hours a week, but it's me, I'm using the skills that I've got, I'm using my personality to do something that I really believe in. And I'm able to see other people happy and know that I'm a part of what made it happen. And that's huge."
What strikes me as most significant in all this is that Marchbank is not saying she has found a way back to being her old self. She has had to, in her words, "accept I can't live my old life – and that was a really hard thing to get over. But once I did, I was able to start finding a way forward." Finding a way forward means developing through the difficulties she has faced and continues to face, not trying to revert back to who she was before.
"If I was still Thai boxing and scuba diving and doing all those things, I wouldn't be doing this. And, actually, doing this is important. I think I've got a new way of looking at myself because of it. OK, I'm not Nicky, the capable person that stands up giving one-hour talks to architects. But I am Nicky who managed to make that person smile. This isn't just my old identity being rehashed; it's an extra bit."
She still has bad days, of course, where it feels as if she just needs to get through to tomorrow, that she is just about surviving. When that happens, she says, only one thing can help: sublime pyjamas. "The days where I can't get up and dress – unfortunately they happen far too frequently in my life, at least once a week – if somebody rings the doorbell, then at least I know I don't look a complete state because I've got my smart pyjamas on, so I don't feel as crappy."
She feels the work she is doing sustains her beyond those volunteering days, radiating throughout the whole month: "I suppose that with having more of a sense of self, you know that if you can make it through to the next day then it may be a better one."
It is easy to feel bleak given the many crises our country and our world are facing, to feel convinced that tomorrow will not be a better day. But the kind of courage that Marchbank has shown, in this capacity to come fully alive rather than to live a half-life in survival mode, is all around us. This is what we see in my NHS colleagues when they go on strike, rebelling against the demand to survive from one day to the next and instead to fight for fair pay and for the life of the institution we all love. It is what we hear in the women of Iran shouting: "Women, life, freedom." It is what moves us in the children protesting against the climate crisis. It is embodied in Zelenskiy and his Ukrainian citizens who fight for liberty. I see it in many of the patients who walk into my consulting room, after years of psychological suffering and waiting for treatment. They come because of their struggles, of course; but they also come because they have made a choice not to remain stuck in survival mode.
They show me every day that if you can find within yourself the capacity to mourn losses and forge a new way forward, life doesn't have to mean survival: you can choose to truly come alive.
Moya Sarner is the author of When I Grow Up: Conversations With Adults in Search of Adulthood (Scribe, £16.99). To support the Guardian and Observer order your copy at guardianbookshop.com. Delivery charges may apply
In the UK and Ireland, Samaritans can be contacted on freephone 116 123, or email [email protected] or [email protected]. In the US, the National Suicide Prevention Lifeline is at 988 or chat for support. You can also text HOME to 741741 to connect with a crisis text line counsellor. In Australia, the crisis support service Lifeline is 13 11 14. Other international helplines can be found at befrienders.org
Do you have an opinion on the issues raised in this article? If you would like to submit a letter of up to 300 words to be considered for publication, email it to us at [email protected]
link