A newly announced Halifax-based clinic operated by Dalhousie University will improve access to mental health and addictions care in Nova Scotia while also providing valuable training for clinical psychology PhD students.
Thirty to 40 clinical psychology PhD students are expected to rotate through the Dalhousie Centre for Psychological Health annually as part of the more than 1,000 hours of clinical training students need as part of the program. Seven part-time and three full-time registered clinical psychologists currently work at the centre, which soft launched in June.
Dr. Chuck Macdonald, dean of the Faculty of Science, spoke of Dalhousie's long history as a community partner at the clinic's formal launch this week (Tuesday, Sept. 12).
"We've already seen the positive impact that community clinics like these can make through our legal aid, dentistry, and social work clinics," said Dr. Macdonald. "We're very proud to partner with the Province to launch the Dalhousie Centre for Psychological Health and help bring Nova Scotia closer to universal mental health and addictions care."
The provincial government has committed $4.5 million over three years in funding for the centre. The Honourable Brian Comer, the minister responsible for the Office of Addictions and Mental Health, said "the centre is giving Nova Scotians a new place to get the mental health care that they need," noting he was a mental health nurse before entering politics.
"Mental health and addictions care is healthcare," he said. "The care you get should be based on the care you need, not if you can pay."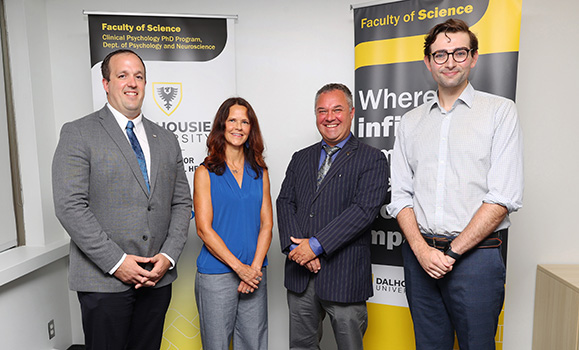 (L to R) The Honourable Brian Comer, clinic co-director Dr. Shannon Johnson, Dean of Science Dr. Chuck Macdonald, and PhD student Patrick Hickey.
The clinic is located in the Fenwick Medical Centre, the same building that hosts the Dalhousie School of Social Work Community Clinic. The operational funding that Dal received from the province will see mental health and addictions services provided by students from the Department of Psychology and Neuroscience's clinical psychology PhD program under the supervision of registered clinical psychologists.
In addition, Dalhousie will be fundraising to support the development of additional academic and clinical opportunities for clinical psychology trainees, as well as to increase seats in the program.
Recommended reading: Feds boost research tackling emerging youth mental health issues
New perspectives for students
Dr. Shannon Johnson, one of the centre's co-directors (along with Dr. Alissa Pencer) as well as an associate professor in the Department of Psychology and Neuroscience and the director of clinical training for the clinical psychology PhD program, said opportunities for students to work with clients from marginalized and diverse populations during their practicum placements are often limited.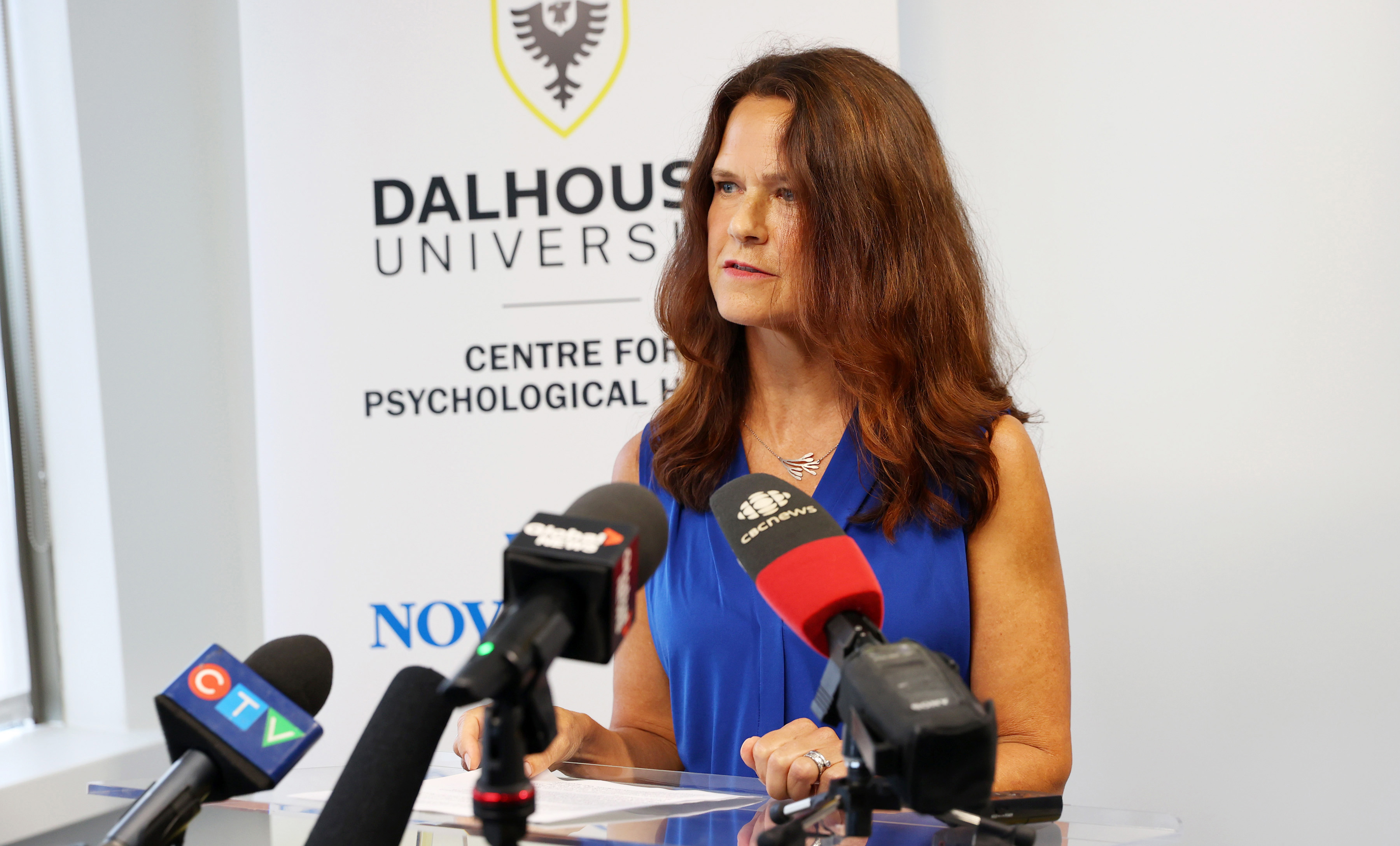 Clinic co-director Dr. Shannon Johnson speaks at the announcement of the Dalhousie Centre for Psychological Health.
"Our students are eager to support diverse clients and to build their knowledge of and experience with people from a range of backgrounds and identities," said Dr. Johnson. "In addition to providing mental health care to Nova Scotians in need, the Centre will provide a wealth of new clinical training opportunities for students in our program as they proceed on the path to becoming clinical psychologists."
Patrick Hickey, a second-year clinical psychology PhD student, has been working with clients in the Centre since its soft opening in June.
"After one summer, I can already see the impact we are having for our clients by making psychological support more accessible, comprehensive, and timely," said Hickey, who noted that in his career he plans to specialize in working with marginalized populations, such as members of the 2SLGBTQIA+ community. "This clinic will allow me to gain experience working with clients from diverse backgrounds, a unique opportunity not often possible in other training sites. This means I won't need to leave the province to gain this key experience."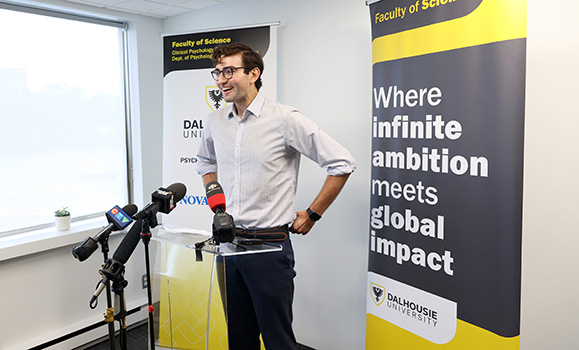 Clinical psychology PhD student Patrick Hickey speaks at the event.
Community support
The minister described the centre as offering the same services as a private clinic, "but none of the clients will receive a bill. What they will receive is the care they need, when they need it most."
The pilot project, developed in collaboration with the province's Office of Addictions and Mental Health, will also test the use of billing codes to deliver universal mental health and addictions care, similar to how many health-care providers are paid for services under the public system.
"The years of the pandemic reinforced the importance of managing our mental health, but it also made clear the difficulties in accessing mental health care," said Dr. Johnson.
The centre will only serve low-income clients, particularly Nova Scotians who face barriers in accessing mental health services. Currently, the centre is partnering with specific community organizations to identify individuals who are most in need of their services. In the future, referrals will be accepted from other sources, such as self-referrals, physicians, Nova Scotia Health, and the IWK Health Centre. The centre will also help connect clients to other community-based resources and can refer clients to additional mental health and addictions services when needed.
link