Opinion: British Columbians should demand and expect the same level of care in their mental and behavioural health treatment as they can expect for their physical care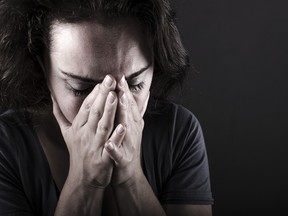 Article content
Imagine the following: A patient goes to see their family doctor for back pain. After a few minutes, the doctor realizes that the patient has significant emotional stress from caring for their aging parents and two young children.
Article content
This stress has resulted in weight gain and subsequent back pain.
Article content
The doctor says, "It sounds like you're experiencing a lot of challenges that are impacting your health. We now integrate mental and behavioural health care into primary care, and the head of the service — a psychologist — is just down the hall. I can bring them in right now. They can help us create the best treatment plan at no cost to you. How does that sound?"
This scenario is a reality in countries like New Zealand, Australia, the United Kingdom, and in thousands of health centres across the U.S.
In this model, physicians work side by side with psychologists and other professionals to provide comprehensive treatments that address both physical and mental health.
Article content
It's called Primary Care Behavioural Health, and it's the model we want to bring to B.C.
Primary Care Behavioural Health allows psychologists and other health-care professionals to treat the problems that are most pressing to patients where and when they need it. This model of care improves health outcomes for patients, leaves doctors feeling more supported and more effective, and saves the health-care system money.
Physicians can fast-track a patient directly to a mental and behavioural health professional who is trained to rapidly evaluate and treat a broad spectrum of issues. These include mental health issues (e.g., anxiety, depression, trauma, substance use), physical health issues (e.g., pain, GI issues), and lifestyle and behaviour issues associated with chronic conditions such as heart disease, diabetes and cancer (e.g., diet, sleep, and exercise).
Article content
Elements of this model are already being used here in B.C.
In the Burnaby Primary Care Network's B Well program, patients with chronic health conditions are provided with a behavioural health coach who is supervised by a psychologist. These patients have shown decreases in levels of depression and anxiety, increases in physical activity, and decreases in weight. One physician called the program "life changing" for her patients. Vancouver Coastal Health piloted a similar program, where a psychologist was placed in family doctors' offices. In less than three, brief (20- to 30-minute) appointments per year, patients showed significant improvements in mental health — which also resulted in fewer visits to the family doctor because they were feeling better.
Article content
But the Primary Care Behavioural Health model will fail if it's not delivered by a team of skilled, trained, and regulated professionals who provide effective treatments. Consider a patient who needs open heart surgery. Could you imagine if this surgery was done by only one nurse in the operating room? Of course not. A medical team including nurses, surgeons and anaesthetists work together to provide the lifesaving intervention.
Now consider a patient suffering from untreated childhood trauma and who has been living with obesity, diabetes, and depression for over a decade. Other than medication, they would be placed on waitlists for a psychiatrist and diabetes programs, told to reach out to private practitioners, or directed to free online support programs as a way to cobble together "care."
Article content
Because that is all there currently is.
British Columbians should demand and expect the same level of training, precision, and coordination of care in their mental and behavioural health treatment as they can expect for their physical care. Let's revisit our initial imaginary case with stress and back pain.
A psychologist would assess the person's distress and pair them up with a behavioural health coach for weekly in person or virtual appointments to help them with stress management and lifestyle changes. The behavioural health coach may notice that this patient values social connection and introduces them to a pain support and wellness peer group. The patient can then be scheduled for a follow-up with the psychologist in eight weeks at the primary care office. All this care, including the contribution of existing community-based providers, would be coordinated through the patient's family doctor.
Article content
But there's a problem here in B.C.
More patients than ever don't have access to a family doctor and may wait weeks or months for routine care. Thankfully, research has repeatedly shown that the Primary Care Behavioural Health Psychology model decreases wait times for family doctors by taking work off their plates. It also saves our health-care system money by treating patients at the first signs of distress and reduces suffering due to mental illness and chronic health conditions.
The last three years have been incredibly challenging for British Columbians. We now have an opportunity with our government committing to meaningful investments and transformation of the health-care system.
We know this is possible. What are we waiting for?
Article content
Nurse practitioners to admit people under the Mental Health Act, reducing long waits for police

'The kids are not OK,' says the Canadian Mental Health Association
Lesley Lutes is a clinical psychologist, professor and director of the Centre for Obesity and Well-Being Research Excellence at UBC Okanagan; Simon Elterman is a clinical psychologist and on the board of directors of the B.C. Psychological Association; Erika Penner is a clinical psychologist and director of public advocacy for the B.C. Psychological Association. The following also contributed to this commentary: Peter Cornish, a clinical psychologist and co-director of student mental health at University of California, Berkeley; Baldev Sanghera, a family physician and director for PrimeCare Medical Centre in Burnaby; Tatiana Sanchez, a PhD student in the clinical psychology program at UBC Okanagan.
---
link