When CSA farmers were discussing their experiences, the following three personal experiential themes emerged (see summarized in Fig. 1): (1) Conflicting autonomy; (2) The pressure of boxes; (3) Social overload. There was considerable variation in how these were presented, and while there is a certain level of selectivity in choosing illustrative extracts, we sought to present characteristic interview evidence to highlight each theme.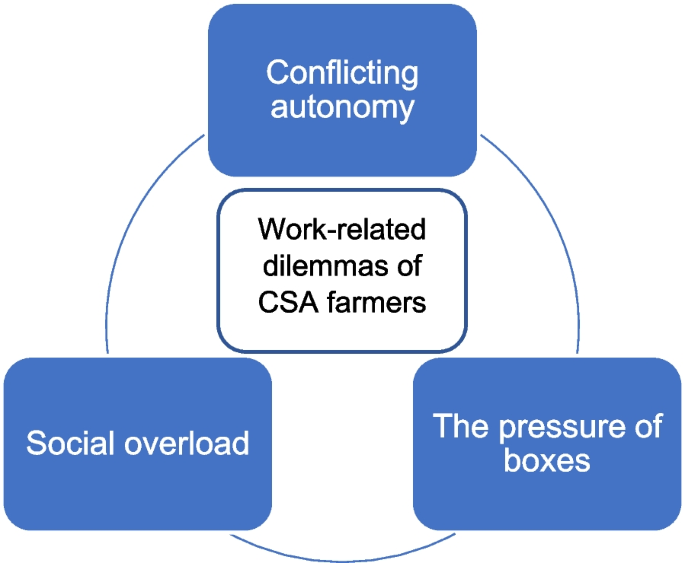 Conflicting autonomy
Experience of taking part in an alternative food network system had a significant impact on farmers' work and allowed them to exercise their rights to ethical, balanced, and responsible uses of land and, as well as contributing to a healthy food environment. In practice, farmers' autonomy takes many forms including agri-environmental schemes, prioritization of non-economic goals in farm strategies, risk-sharing with consumers or not having to commit to a commodity market. This theme of conflicting autonomy emerged across the interviews as participants explained their CSA farm management in relation to the authenticity of their work.
Unfortunately, there is no standard-setting process for farming methods in CSAs. For participants, commitment to excellence encompassed a strong dedication to both one's work and to high standards (e.g., to grow a variety of crops, increase biodiversity, have a positive impact on the landscape) but it also enhanced their sense of obligation. As an example, Farmer 6 illustrated how CSA operations determined her duties:
This [CSA] is important. I do a good thing, which I like to do, even when I have to break the ice from the water barrel, it's cold, it's windy, and I hate it, so despite the physical discomfort, I do because I know how important it is.
Striving to sometimes reach difficult-to-attain outcomes led farmers to become dissatisfied. In fact, participants attempted to set a responsible example. For instance, Farmer 3 experienced disappointments when the harvested vegetables did not meet his own healthy food standards:
It is a professional question – could I manage it …professionally… better? So, these are questions. I do not know, I have demands of myself that I would like to meet. Well, I should probably reconsider my standards, but if I don't care at all about quality, then why am I doing it?
As farmers became more involved in their own CSA community, possibly taking on leadership roles, they tended to concentrate more on decisions to produce food with the aim of maximizing the size of food boxes for CSA consumers instead of their own rules and norms for good farm management. That is to say, there is a need to monitor the planting calendar to determine what and when to plant, whilst gardening calendars (containing a variety of vegetables) must be followed in order to plan for the harvest. Not surprisingly, Farmer 5 explained how he could not live up to his professional ambitions through CSA as his personal agricultural preferences lay elsewhere:
And even though I also want to improve, the CSA really takes all my energy, and that's why I am not able to do everything that interests me. Even professionally….
In addition to professional concerns, farmers have to cope with the diversification of vegetables aiming to fulfill the preferences and dietary needs of the members. Yet consumers often cannot appreciate these efforts. On top of that, farmers also experienced the requirement of communicational and educational skills as a tool for influencing members' attitudes toward a healthy food supply. Farmer 3 illustrated how he attempted to influence his member's relationship to sweetcorn:
I asked him what he had done, where he had stored it. "Well, I kept it in the pantry" or something similar. I said, Oh My Gosh, this is sweetcorn, it can only be stored for a maximum of one or two days, after which the sugar content degrades. Did you know that? "Well, I had never even heard of that." was the response.
It appears the CSA environment also creates tension between the financial security of the farmer and customer's budget. Market logic often constrains the farmer's room for maneuver causing economic instability of the CSA farm. It serves as a major distress factor for the farmers. As an example, Farmer 3 had to keep opposing financial considerations in her mind:
Honestly, I do try as much as possible financially but vainly. I am stuck in the middle. Members can't be told to pay fifty thousand HUF [155 US Dollars] a month because they simply can't pay that much.
Moreover, it seems, it is difficult to balance the competing demands of work and personal projects: changing plans for farming activities or processes to accommodate work demands could challenge work-life boundaries. Farmer 5 categorically pointed out how he delimited his daily farming activities in order to ensure his own free time:
You're not fair to yourself either, because you shouldn't work fifteen hours/per day giving you less time for other activities. If you have to grow vegetables every week for thirty-eight weeks, it simply won't fit in your schedule.
This personal dilemma could be very difficult as farming often requires immediate or sustained action. Sharing risks does not always alleviate the cognitive burden on the individual farmer, but it makes difficult to think about task delegation. Farmer 2 pointed out that he sometimes felt isolated and had to manage a one-man-show:
If you ruin something, you are the only one responsible for it. If you're not doing something right, for instance watering the radish – if you overwater them, two-thirds of them will crack. That is to say we have to pay so much attention. Nevertheless, we run into totally impossible situations sometimes, which we created for ourselves.
Being their own boss, they aimed to prioritize and represent a better food system, calling for greater clarity and constraints on the use of the land or farming operations. In relation to this, and reflecting the work of Weiler and colleagues, the CSA environment encourages the demonstration of morally-laden behavior (responsibility, fair working environment for employees etc.) during work processes [56]. As an example, Farmer 5 paid attention to those he was actually working with despite the difficulties of finding a likeable workforce in the small-scale agricultural sector:
It's such a process, that you produce quality organic vegetables for like-minded people who are happy to support this system, and your workers are spending their salary on alcohol? I know it shouldn't be part of a business approach, but you feel deep down in your bones that you shouldn't be giving money to people who waste it. It's not good for a successful business to create this moral approach in you.
The pressure of boxes
Farmers had to adjust their schedule to the needs of production, to the season and CSA-box numbers, to more intensive work periods because of vegetable quantities or to meet the exact appointments for pick-up days. Additionally, they felt that providing high-quality, compassionate care to consumers was critical, as it is important to match the pre-paid CSA food boxes with members' expectations. This personal experiential theme is about the pressure of CSA boxes. Farmers described pick-up times as an important dynamic in their farming life: they frequently experienced emotional waves in relation to delivery.
First, precise timekeeping, as a working time characteristic, provides the basis for the CSA farmer-consumer agreement. In addition, as Farmer 6 shared, the non-material part of the agreement also defines the role of a farmer in the CSA model, influencing what level of service they expect to provide:
There was a period when I felt it [CSA] was just a service, because the community did not develop in such a manner. It was better than producing for the farmer's market, but we only operated as a service provider.
The planning begins with the number of vegetables committed to each box and continues to the finally-harvested vegetables. Observance of what to harvest weekly (in the appropriate box numbers) occasions the need for reliable time measurement. Their weekly harvest duties imply an almost continuously high-level of decision-making, especially in summer. Farmer 2 described how he always has to have a deep understanding of his land and the products he plans to grow:
It's in the foil tunnel and I think it stays there too. Because on the one hand it grows even in winter, on the other hand, it is always out there, as we also choose varieties that can withstand the cold down to minus twenty degrees [-40 F], and then we bring it into the box from there. Yes, we still produce around five thousand leeks! … And many times, I can't tell the members why the vegetables are smaller in the box, just talking about the 'why', the background behind it… We planted a huge number of vegetables – for example we share three hundred lettuces for a delivery. Now we planted three hundred lettuces, but only about two hundred or two hundred and twenty grew to maturity. We're really stressed now! I've just told X that maybe we should sow ASAP another two or three hundred again because of that. But this is true for anything. You buy and sow the seed, which is not guaranteed to be harvestable, especially not in organic farming.
A CSA's capacity to produce the appropriate number of vegetables at the right time using environmentally-friendly methods while investing the least amount of time and money is critical to its success. Not surprisingly, Farmer 1 expressed his fears about the variety of foods per box:
You can't do it… it's like it's a huge shame. Let's say, for example, if there are only three types of veg in the box it is almost as if there is nothing!
In line with the above, meeting consumers often required extra attention, while also triggering revisions in relation to "simplify" farming activities. Furthermore, they had to be aware of the number of empty boxes, returns, bags needed, vehicle condition, as well as the road conditions for transportation. Farmer 4 described how this repetitive pressure begins and influences his day-by-day life:
I'm coming in the evening, so the plan now is that when we get home tomorrow, I'll water this and that quickly, but then there are seeds to be sown, and then on Monday this and that, and then there is the sowing calendar, right? It restricts me.
Along with the increasing focus on boxes, their experiences were associated with emotions, co-occurrences of both positive (e.g., pride, satisfaction, inspiration, sense of connectedness) and negative effects (e.g., sadness, anger, embarrassment). On the one hand, feedback from CSA members was perceived as useful consumer communication, on the other hand it influenced their emotional life. Farmer 2 stated how personal reactions ensured a direct effect on subjective well-being:
You give them something they have never had before, a new flavour, and you recommend how to prepare this or that vegetable. And then they come back in two weeks to "Wow!" They want another vegetable box because it was so good that the family ate it like it was something incredible!
Moreover, this feedback contributed to their own evaluation of their performance. The members' responses were bound up with being successful in the way of working the land in a small-scale/organic mode rather than separated from it. Farmer 4 talked about how positive emotions were instrumental for reinforcing his CSA farming activity:
Sometimes I don't like doing it, but it certainly fills me with a lot of energy. Especially if there is a little positive feedback I receive, then definitely.
Unfortunately, negative emotional responses to farmers were also relevant factors influencing their general mood, determining their psychological state. Farmer 3 described how negative feedback wore him down over time or was, at the very least, a temporary distraction:
If there are only two criticisms in a day then it doesn't matter that ten people have praised me before them, those two will stay and run around in my head.
Social overload
Engaging in CSA farming, many farmers experienced a different kind of relatedness including interactions with members, relations with CSA or the rural community, and familial connectedness. Such networks often formed active conduits towards achievement of work satisfaction or amplified dilemmas. Personal, community and even professional relationships were described not only as helping people to feel a sense of belonging or giving meaning, but as reasons for many of the challenges experienced by farmers. This theme emerged as CSA farming impacts on farmers' social relations.
Farmers wanted to ensure that the benefits of their work accrued to the CSA communities, and they wanted to see the social benefits from cultivating food. The quality of a CSA community is often dictated by the degree of engagement and is affected by community interactions. As Farmer 2 pointed out, the common ground in a CSA is that consumers are like-minded:
I can speak firsthand about mine [members]. I think that anyone who gets into such a community, or wants to get into it, represents a specific perspective.
However, all of the interviewees had certain dilemmas as to what social responsibility they have. As an example, Farmer 6 worried that she was not able to reach a higher level of community engagement via CSA:
It is interesting that the open days often disappoint me … but because of myself, not because of the community. You know, on the open days. I always realise how much more I should be open-minded, or I should be able to control, guide and moderate such get-togethers.
A good community, just as a CSA community, should be cohesive, safe and confident, and farmers should be able to influence the value systems of members around them. Personally knowing members well serves the goal of building social relationships, but it also increases farmers' awareness of commitments. Farmers explained how they have to manage the mood of their members, occasionally stepping outside their comfort zone. As an example, Farmer 4 reflected on she had to allow a member to leave the CSA (despite the financial loss of losing a member and a fixed one-year contract) so as to protect the social well-being of the community:
She really doesn't belong to this community; this situation can't continue like this. If I were her, I would choose that too. And she must be allowed to leave in order to go free with a good feeling on all sides.
Further, participants' accounts revealed the importance placed on interaction with members. The appropriate psychological distance between farmers and members of their community remains undefined in the CSA framework so that farmers need to set boundaries as to what they are able to manage. But above all, as Farmer 6 commented, it may be that a farmer does not like a member of the community:
There are antipathetic members. It's hard to say, because they can still be really good member…. Maybe it is not really their fault, maybe they just said something or made a comment that made me feel that way about them, but anyway, what can we do?
Interviewees talked about how they would have preferred to prioritize their own needs, whereas members put their own welfare first, leading to incongruousness. Farmer 1 explained how she grew to hate a customer due to his demands:
He wanted vegetables at unrealistic times that had nothing to do with production and harvesting periods. I was not able explain to him until finally I had to say "NO" to G.! And I have blocked his phone number and NO – there are some people I simply don't want to have any connection with.
Along with a personal desire to "do better by" their CSA management, participants also expressed certain social dilemmas within the rural community. All of them were committed to CSA membership and the CSA community and were contacted regularly by their urban, conscious consumers. Farmer 4 emphasized the growing social distance in their rural community owing to the CSA social environment:
I love to talk, but I haven got any time for it. I enjoy it maybe too much – so I cannot allow myself to go into the village except one time per week at most. I have no time to chat for hours. But here! This is the CSA community – and how can I express this nicely: there are intelligent people around me here.
Moreover, their production and decision-making processes were influenced by their CSA-related thinking. Such thinking is supported primarily by urban consumers but, in their rural community, perceptions can vary. Not surprisingly, spatial concentration itself creates a favorable environment for CSA [57]. That was emphasized by Farmer 5 who had moved from his home environment into a new area of the country in order to find a more inclusive rural environment:
We saw at a local level … if a young family wants to break out from what's been going on here for decades, his environment, his family, his neighbours, everyone will pull him down. He will be shouted down… For us, there was no one here next door to say that you are completely out of your mind.
Additionally, all of them were motivated both to become reliable CSA producers and to take care of their families. Unfortunately, there was no model for them to find the work-family life balance between how to engage in and satisfy CSA and family commitments. Continuous availability for consumers along with the specific demands of CSA-related tasks left farmers vulnerable to conflicts between family and work. Farmer 1 illustrated her struggle to switch off from work life:
It is possible that … I will have more foil tunnels… Maybe two people would be enough if I had nothing else to do. … But the fact is that it is still at the expense of the children and at the expense of the family home.
Not surprisingly, family members were a factor that increased their stress. Participation in the family role is made more difficult by virtue of participation in the work role, and the participation in the work role is made more difficult by virtue of participation in the family role. Farmer 5 became a family man, children were born, but he felt that the CSA would not allow him to pay attention to his family:
Because whoever has a family knows how much energy the family needs, and how much attention it needs. At the beginning of a CSA when somebody is doing it alone (as a single man), he has completely different possibilities at the level of daily work; and your personal development is quite different.
link