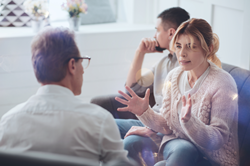 "We are committed to ensuring cultural competencies and mental health equity to increase well-being on-campus and in our underserved communities."

LA VERNE, Calif. (PRWEB)
June 28, 2023
The University of La Verne has been awarded a $2.2 million U.S. Department of Education grant to establish the Institute of Mental Health and Psychological Well-Being — a significant driver for related campus and regional initiatives under the university's new College of Health and Community Well-Being.
"We are committed to ensuring cultural competencies and mental health equity to increase well-being on-campus and in our underserved communities," said Kathy Duncan, interim dean of the college. "This new institute will help accelerate efforts, enhance general and telemedicine training, increase services, transform related education across disciplines, and ultimately revolutionize partnerships, mental health care, and community well-being."
Funding will be utilized to expand mental health practitioner training, education, and research to address the critical need for comprehensive and equitable community well-being services. The institute was part of community project funding requests from longtime mental health advocate Congresswoman Grace Napolitano (District 31). Napolitano is a co-chair of the Mental Health Caucus and recently helped reintroduce the Mental Health Services for Students Act, a bill that aims to fund on-site mental health services for schools nationwide.
Reports show that since the coronavirus pandemic, the number of Americans experiencing symptoms of mental health conditions grows annually and those seeking care is on the rise. Half of adults ages 18-24 report symptoms of anxiety and depression compared to about a third of adults overall in 2023, according to the Census Bureau's Household Pulse Survey.
The most recent California Health Care Foundation Health Care Almanac shows that nearly one in seven California adults experience a mental illness. Meanwhile, one in 14 children has an emotional disturbance that limits their ability to function in familial, learning, and communal activities.
Professor of Psychology Nicole Mahrer has been named the director of the institute. She has done extensive research in child psychology, health psychology, culture, and prevention, specializing in risk and protective factors that predict physical and mental health functioning in ethnically and culturally diverse children, adolescents, and young adults.
Although interdisciplinary treatment is on the rise because of its cost-effectiveness, Mahrer says collaborative, cross-disciplinary work doesn't happen until professionals are already in the field. To stay ahead of the curve, the institute will train students as early as during their undergraduate education, as well as provide all students at the university, regardless of major, with an understanding of mental health and well-being embedded into their curriculum.
"This institute can have so many positive effects including reducing mental health stigmas, giving students tools to connect with and help future patients, and preparing all students to advocate for the well-being of others and themselves," Mahrer said.
The University of La Verne's Counseling and Psychological Services (CAPS) office currently offers individual therapy and psychiatric appointments at no cost for students as well as community resources available in the local area. Learn more by visiting laverne.edu/counseling/resources.
Share article on social media or email:
link